Spirit Award Recipients
2010
Lifetime Award
Ken Withrow
Annual Award
Debbie Price
Youth Award
Chandler McRae Von Cannon
---
2009
Lifetime Award
Ron Griffin
Annual Award
Eric Vann
---
2008
Lifetime Award
Tony Gonsalves
Annual Award
Chuck Keener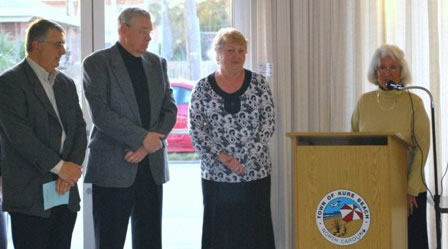 AWARD RECIPIENTS & NOMINEE, pictured L-R:
Tony Gonsalves, Chuck Keener and Debbie Price. Awards presented by Frances Regan, Chairperson of the Kure Beach Community Center Committee.
---
2007
Lifetime Award
Peggy Fisher
Annual Award
Paula Withrow
Youth Award
Austin Lewis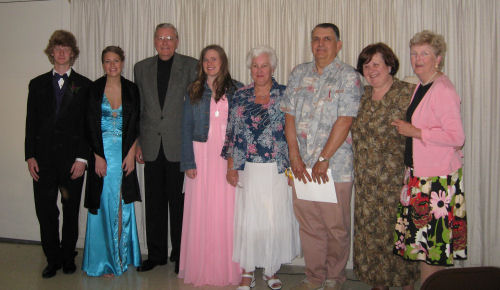 AWARD RECIPIENTS & NOMINEES, pictured L-R:
Austin Lewis, Kelsey Hunt, Chuck Keener, Shelley Ebersole, Paula Withrow, Tony Gonsalves, Janice Truelove and Peg Fisher.
---
2006
Lifetime Award
Wanda Tsangarides

Annual Award
Anne Hope Marvin
Appreciation Award (Posthumous)
Betty Medlin, accepted by P.V. Medlin
---
2005
Lifetime Award
John Gordon

Annual Award
Diane Heglar

Youth Award
Jamie Ebersole
---
2004
Lifetime Award
J. W. "Dub" Heglar

Annual Award
Thomas Russell
Youth Award
Miss Jessika Dundas
---
2003
Lifetime Award


Faye Teague

Annual Award


Jean Martin
---
2002
Lifetime Award


A.E. "Punky" Kure

Annual Award


Doug York