Bike/Ped Committee
Mission- To assist the Town Council of Kure Beach in the planning, funding, development and implementation of facilities and programs that will result in the increased safety and use of bicycle and pedestrian travel as a significant and beneficial mode of transportation and recreation, embracing innovation and being environmentally and socially responsible."
Bike/Ped Committee FAQs, please click here
BIKE/PED COMMITTEE INITIATIVES
AARP WALK AUDIT
In 2020, the Committee conducted a walk audit of Fort Fisher Boulevard using the AARP Walk Audit form. To view the results of their work, please click here.
Go Coast Trails & Bikeways Maps
Go Coast provides alternative and sustainable transportation options to those who live, work, and play in the Cape Fear Region. To view maps within the region that are pedestrian and bicycle friendly, please click here.
Island Greenway - Proposed Kure Beach Bike/Ped Route
Letter from Committee Chair, Mo Linquist:
Greetings,
The Kure Beach Bike/Ped Committee was formed to create awareness for council where our town falls short in responsibility providing SAFE pedestrian, bicycle and other active transportation routes through our town. This includes adequate sidewalks, bike lanes or routes, crosswalks and also takes into consideration ADA requirements for residents and visitors. With the adoption in 2019 of NCDOT's Complete Streets Policy and the Federal State Streets Act of 2018, both state and federal agencies are directing streets to become inclusive for transportation, not only for motorized vehicles but ALL forms of active transportation like pedestrians, people on bikes, etc.
With the help of WMPO (Mo Linquist was appointed by KB Town Council to sit on their Bicycle Pedestrian Advisory Board), NCDOT, East Coast Greenway, BikeWalkNC and various other advocacy agencies, the committee is dedicated to look at all areas that will improve safety for ALL travelers, which is the utmost concern.
It is a fact, confirmed by our police chief, that Ft Fisher Blvd is where accidents take place between bicycles and cars, therefore, this is the least safe route for families and leisure riders on bicycles because of inadequate sidewalks and bike lanes, and on-street parking.
Many residents have expressed the desire to create and connect to the Island Greenway system as a multi-use path protected in nature like the one in CB. At this time we do not have permission to proceed in this direction so the next best, 'almost no cost' immediate solution was suggesting a 'bike route' created to direct these families through residential areas giving a safe alternative to travel on Ft. Fisher. This suggestion was just the first step and would also include education and marketing for pedestrians, people on bicycles and people who drive cars to learn how to coexist in a limited space.
We welcome all to attend our monthly meetings and email us directly at kbbikepedcommittee@gmail.com and thank those who already have given us input and consideration.
Safe Travels,
Mo Linquist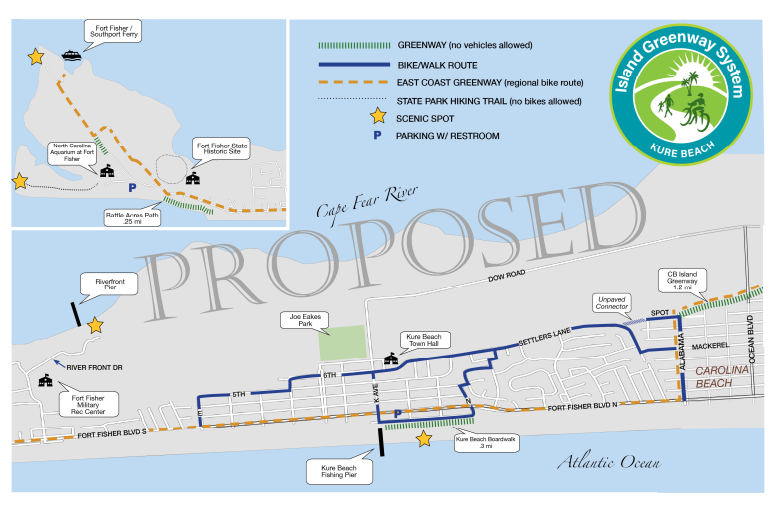 Please take a moment to review the map of the proposed Kure Beach section of the Island Greenway System. A pdf version of the map is available by clicking here. The Bike/Ped Committee would like your comments. You may send your comments to their email at KBbikepedcommittee@gmail.com.